Green Kalahari

Destinations & Attractions

Contrasts and juxtapositions define the magnificent Green Kalahari of the Northern Cape, which is a diverse assortment of vegetation. Arid semi-desert lies alongside the lush valleys on the Orange River's banks and stretches of fertile winelands. The Green Kalahari showcases the splendour and variety of the South African landscape to perfection, and makes for a stunning holiday destination.

The San were hunter-gatherers and the Khoi were cattle farmers. These people once inhabited this region, living off its produce. Today, a tiny proportion of these original folk still occupy portions of the land, continuing to live in the way that their forefathers did. Their techniques and resources may have been affected by modernisation to a small extent, but their customs and traditions remain ancient and fascinating. Historical attractions include the remains of the Bitterputs and Verneuk Pan Settlements, cave drawings, Schröder's Mission Church and the town of Upington, which boasts a number of fascinating sites.

Because the landscape of the Green Kalahari is so diverse, it is home to an endless variety of plants and animals that are able to make this their natural habitat of choice. Valleys, mountains, dry grasslands, and the Orange River all combine to create a unique spot, which is home to a host of antelope, as well as predators like lions, cheetahs and hyenas. To appreciate this natural wonder, visitors are advised to embark on game drives, bush walks and bird-watching excursions at the reserves and parks of the Green Kalahari. These include the world-renowned Kgalagadi Transfrontier Park, as well as the Augrabies Falls National Park, Riemvasmaak Community Conservancy, Spitskop Nature Reserve and Witsand Nature Reserve. These not only provide fabulous adventures for the entire family, but also guarantee spectacular photographs to be treasured.

This region is a hotspot for adventure tourists and adrenalin junkies, as there is just so much to do in these great outdoors. Taking a ride on a camel's back through the "desert" is something that will be remembered for years to come, as will camping in the unspoilt beauty. However, for those that want to push their limits, there is microlighting, white water rafting, parasailing, and dune boarding. The natural landscape is also ideal for hiking, walking, mountain biking, and so on.

One of the must-see attractions of the Green Kalahari is the Richtersveld Cultural and Botanical Landscape, which is one of only eight South African World Heritage Sites. This is protected and managed by the indigenous Nama people, who have committed to conserving the region left to them by their Khoi-Khoi ancestors. Visitors to this area will experience how man can live in harmony with his natural surrounds.

Important towns of the Green Kalahari include Augrabies, Groblershoop, Kakamas, Keimoes, Postmasburg and Upington.
Augrabies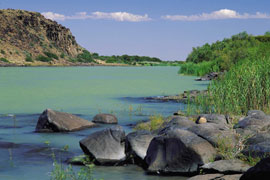 The little town of Augrabies that lies on the banks of the Orange River has been totally overshadowed by the Augrabies Falls National Park. Not only does it lie on the border of the park with which people assume it is synonymous, ...
Kakamas

Kakamas is a rather small town situated in the Northern Cape of South Africa. This interesting town was originally built by a church and named after the Khoi word for 'poor pasture'. Today, this name poorly reflects on a fertile ...
Kanoneiland

Kanoneiland is a beautiful settlement situated in the Northern Cape in South Africa. What makes this settlement stand out from the rest is that it is situated on the largest inland island in the gorgeous Orange River Valley. It ...
Keimoes

Keimoes is a beautiful little village which probably owes its name and attractiveness to the local shimmering fountain. Situated in the Northern Cape in South Africa, Keimoes boasts an abundance of green foliage and undulating ...
Upington

Upington is the chief city in the Northern Region of South Africa. This dry and hot area is characterised by desolate deserts and harsh landscapes. However, do not let that deter you. Upington boasts a marvellous oasis: the ...
Jump to ...


Destinations by Region
How to Find

Attractions / Things To Do
How to

Find Accommodation
Where is? Not sure about towns? Find their locations on this map.